MarvikShop, is not a bridge, but a total revamp of osCommerce to work within Joomla as a Joomla component, it installs via the Joomla! component and Module installers. With many features available this will be one of the most complete ecommerce solution you need. Because MarvikShop is OScommerce for Joomla, it will be easy to implemented the oscommerce addons you can find here in MarvikShop itself.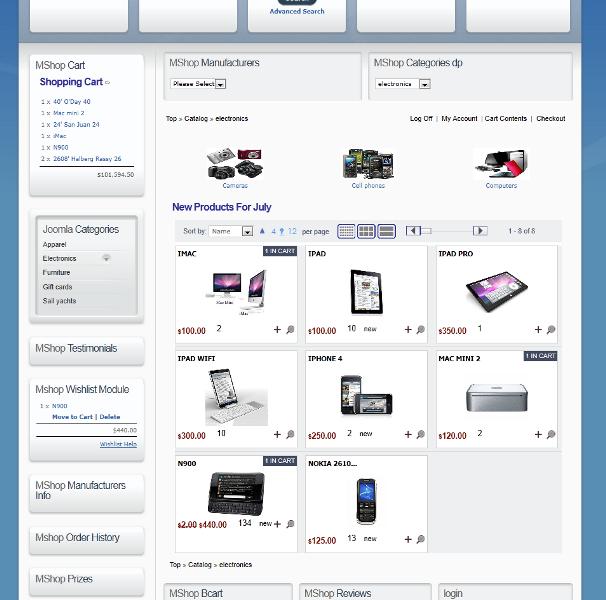 MarvikShop 3.0 is easy to install on Joomla! 3.x.x.and Joomla 2.5. The old version Marvikshop 1 series was compatible with Joomla 1.0 and joomla 1.5. MarvikShop 2.x.x works on Joomla 2.5. We do not support MarvikShop 1 and 2 anymore.

Layout:
Nice product listing layout
jQuery/Ajax Shopping Cart
Fly to Cart product image to cart on product page
Ajax Add/Remove buttons in cart
Ajax Delete button in cart
Ajax Remove button in shopping_cart infobox

Unlimited Products and Categories
Gift Vouchers/Coupons
Download/Virtual Product support
Secure/Stable code base
Web Based admin Panel
Supports UPS, USPS and Fed X shipping
Unlimited product Specials
Separate customer groups
Download Controller
New Attribute Manager
Down For Maintenance
Shipping Per Product
Separate Pricing Per Customer
Category Box Enhancement
Specials On Main Page by Default
Column Product Listing + admin toggle and controls
Dynamic Meta Tag Generator
Edit Orders
Categories Descriptions
Easy Populate
Easy product listing
Country/State dropdown
Recover Cart Sales
Wishlist
Customer Loyalty Discount
Sales/Tax Reporting
Page Performance Parse

Some payment Modules Included:
Authorize.Net Consolidated Credit Card
Cash on Delivery
Standard osC Credit Card
EFS Net
GeoTrust QuickPayments
iPayment
Check/Money order
NOCHEX
PayBox Credit Card
2CheckOut
PSIGate
SECPay

Some shipping Modules Included:
FedX Direct Real Time Quotes v2.04
UPS XML v1.1.5
USPS Methods v2.7d + insurance
Flat Rate
Per Item Shipping
and many more...

Prices, Payment and Delivery.
All prices are in EURO € currency and all taxes are included. Listed prices are subject to change without further notice. There will be no supplementary charges. The payment process and all payments are processed by third parties.
Please read very carefully the product description and requirements. Also check the demo and free version, since we have a no-refund policy in order to avoid any fraud attempt.
Offers.
The quotes included in our offers for custom work are valid for 24 hours if there is no other stipulation because of the constant price-offer optimization. Time-frames are approximate, since they may vary due to the clients feedback. Offers are not transmittable. Offers are having a private and confidential character and cannot be published in any form. If involving our products, most probably the custom work will be realized on the latest available version. The answers for questions involving our products in generally are based on the latest available version.
Product License.
All commercial Extensions (components, modules, plugins) or Custom Work that we are offering are PROPRIETARY LICENSED Products (less GPL Extensions; see below). The PROPRIETARY LICENSED products are coming with a single Site License. This means that the buyer is entitled to install and use it only on a single site. Resale or distribution of our work (free or commercial products) including extensions, components, modules, plugins and custom work is strictly forbidden. Regarding custom work, our terms stated here are valid if no other agreement was closed.
In cases of abuse the license will be revoked immediately. Also customers working with 3-rd party developers, should ensure that if a third party acquired the license for them, worked their site or customized the product further to suit their site requirements, signed previous with the third party an NDA agreement in order to respect our terms & conditions presented here. This measure should offer protection to our customers, in case that the third party is violating the terms & conditions. Of course in fraud attempts, where a refund is claimed and surely not granted by the payment processor authority, the license will be revoked immediately, proceeded by legal actions for illegal usage.
Source Code of the components and custom work are NOT encrypted and we hope it will never be necessary to apply such measures. Our intention is to provide customers with more comfort and flexibility. Custom Work, Commercial or Free Components have all sources available and editable. The customer can modify them to match his purpose, but with no further distribution (free or commercial) in any form. Also, the partial use of the code in other components or projects is strictly prohibited! Exclusive "Intellectual Property" Rights are under complete ownership of MarvikShop.com.
Warranty and Support.
We guarantee that our products match their described features. We are not liable when our products may not function properly due to any particular system configuration, but we are trying to solve all the problems. So please do not hesitate to contact us, preferably on our forum. Please note that we are trying to answer as soon as possible, but take also under consideration our time zone (GMT +2) and working days. Support and warranty are offered for a period of one year after acquiring the license and does not include questions regarding the code, how to customize it or further development plans. Eventual fixes will be included in the next version and distributed according to the licensing rights. Customer modified sources, bonus licenses and free products are excluded from any warranty and support.
Updates for commercial Products.
After acquiring one product, the customer will receive upon request the next version releases for free for one a year. Please note that if any updates will be released, they will come as they are and only in special cases an upgrade script will be released. In cases of abuse the license will be revoked immediately!
Customized Versions are build on existing versions and are NOT the subject of any update., as well any bonus distributed licenses. Non-commercial products are also distributed as presented and are also not the subject of updates.
Order Acceptance.
Terms of payment shall be determined in our discretion and as otherwise agreed to by us. Payment shall be made by Paypal . Your receipt of an electronic or other form of order confirmation does not signify our acceptance of your order, nor does it constitute confirmation of the order or our offer to sell. We reserve the right, without prior notification, to accept or decline your order or limit the order quantity for any reason.
In order to download the GPL versions available on our site, you need to be a "MarvikShop GPL Development Club Member". After becoming a member, the downloadl-ink will be available on as normal on each product page for the featured Club extensions and at the bottom of the page. The provided code through the GPL product version can be used further for personal usage or for other GPL available products, according to the GPL license.
Support for the GPL products it's offered ONLY through our Forum. The support area covers ONLY the existing provided code, not further tweaks or programming.

By not respecting our terms & conditions the membership can be revoked immediately, without any previous notice. The period of the membership is 12 months. After the membership expires, a new membership can be acquired.
GPL Version Extensions.
All GPL Version Extension products are distributed under the GPL GNU General Public License, version 2. This extensions are only similar by name and main functionality with our other license type solutions (proprietary licensed products). The code itself in the GPL versions may vary allot from the other licensed type products. The obtained result with the GPL version may also vary allot in comparison to other licensed type products offered by our company.
Site Users and Members.
By registering to our site you become a member and also can post topics in the forum. From time to time it's possible that we will inform you on different issues or products. If you don't want to receive our information then please let us know and we will delete your membership account.
Very pertinent behavior on the forum may lead to a ban and canceled membership. without any previous notification, especially in case of spamming or advertising other products. In order to avoid this please do not use improper language, insults, or have a pertinent behavior (for more please see Customers FAQ).
You agree that you will not misuse or abuse account access and passwords. You agree that you will only use your password and that you will take all reasonable precautions to protect its secrecy.
Content.
The author reserves the right not to be responsible for the topicality, correctness, completeness or quality of the information provided. Liability claims regarding damage caused by the use of any information provided, including any kind of information which is incomplete or incorrect, will therefore be rejected. All offers are not-binding and without obligation. Parts of the pages or the complete publication including all offers and information might be extended, changed or partly or completely deleted by the author without separate announcement.
Typographical Errors.
In the event a product is listed at an incorrect price or with incorrect information due to typographical error or error in pricing or product information, we shall have the right to refuse or cancel any orders placed for products listed at the incorrect price. We shall have the right to refuse or cancel any such orders whether or not the order has been confirmed and your credit card has been charged. If your credit card has already been charged for the purchase and your order is canceled, we shall immediately issue a credit to your credit card account in the amount of the charge.
Referrals and Links.
The author is not responsible for any contents linked or referred to from his pages, unless he has full knowledge of illegal contents and would be able to prevent the visitors of his site from viewing those pages. If any damage occurs by the use of information presented there, only the author of the respective pages might be liable, not the one who has linked to these pages. Furthermore the author is not liable for any postings or messages published by users of discussion boards, guest books or mailing lists provided on his page.
Copyright.
The author intended not to use any copyrighted material for the publication or, if not possible, to indicate the copyright of the respective object. The copyright for any material created by the author is reserved. Any duplication or use of objects such as images, diagrams, sounds or texts in other electronic or printed publications is not permitted without the author's agreement.
Privacy Policy.
If the opportunity for the input of personal or business data (email addresses, name, addresses) is given, the input of these data takes place voluntarily. The use and payment of all offered services are permitted - if and so far technically possible and reasonable - without specification of any personal data or under specification of anonymous data or an alias. The use of published postal addresses, telephone or fax numbers and email addresses for marketing purposes is prohibited, offenders sending unwanted spam messages will be punished.
We welcome all comments, feedback, information, or materials, which you submit to us through or in conjunction with this Site ("Feedback"). Please note that your Feedback shall be considered non-confidential and become our property. By submitting your Feedback to us, you agree to a no charge assignment to us of all right, title and interest in copyrights and other intellectual property rights on a worldwide basis to your Feedback. We shall be free to use your Feedback on an unrestricted basis.
General Dispositions.
While we endeavor to provide the most accurate, up-to-date information available, the directories and information on this Site may be out of date or include omissions, inaccuracies or other errors. This Site and the materials therein are provided "AS IS." We make no representations or warranties, either express or implied, of any kind with respect to this Site, its operations, contents, information or materials. WE EXPRESSLY DISCLAIM ALL WARRANTIES, EXPRESS OR IMPLIED, OF ANY KIND WITH RESPECT TO THIS SITE OR ITS USE, INCLUDING BUT NOT LIMITED TO MERCHANTABILITY AND FITNESS FOR A PARTICULAR PURPOSE.
You agree that we, our directors, officers, employees or other representatives shall not be liable for damages arising from the operation, content, or use of this Site. You agree that this limitation of liability is comprehensive and applies to all damages of any kind, including without limitation direct, indirect, compensatory, special, incidental, punitive and consequential damages, damages for loss of profits, revenue, data and use, incurred by you or any third party, whether in an action in contract or tort, arising from your access to, and use of, this Site or any other hyper-linked Web site, even if we are expressly advised of the possibility of such damages.

Termination of Usage.
We may terminate or suspend your access to or use of all or part of this Site, without notice, for any conduct that we believe is disruptive to this Site or is in violation of any applicable law or these Terms and Conditions.
Compliance with Laws.
You agree to comply with all applicable laws, statutes, ordinances and regulations regarding your use of this Site and your purchase of products or services through this Site. We may, in our sole discretion, report actual or perceived violations to law enforcement or appropriate authorities. If we become aware, through a complaint or otherwise, of any potential or suspected violation of these Terms and Conditions or the Privacy Policy, we may (but are not obligated to) conduct an investigation to determine the nature and extent of the suspected violation and the appropriate enforcement action, during which investigation we may suspend services to any customer being investigated and/or remove any material from our servers. You agree to cooperate fully with any such investigation. You acknowledge that violations of the Terms and Conditions or the Privacy Policy could be subject to criminal or civil penalties.
Legal Validity of this Disclaimer.
This disclaimer is to be regarded as part of the Internet publication which you were referred from. If sections or individual terms of this statement are not legal or correct, the content or validity of the other parts remain uninfluenced by this fact.



You should not be running with PHP 6.0. First of all, it's an unreleased test version, and is not considered ready for any kind of production use. Second, osC makes use of many of the functions that PHP is removing in PHP 6.0, among them get_magic_quotes_gpc() (there seems to be some discussion about putting that one back in). Read this: us.php.net/ma....deprecated.php . As of PHP 5.3, they will generate "deprecated" errors, warning you to upgrade your code.

Installation & upgrading
Marvikshop is easily installed as any Joomla component. That should be done through your site's backend.

Once you log in, you should open the Extensions => Install/Unistall section and click on the [Browse..] button in the Upload Package File section. Navigate to the two Marvikshop files(com_marvikshop and com_marvikshop_personal) file you have downloaded earlier and select it. Then click on the [Upload File & Install] button to start the installation. It will install and shows the first installation screen: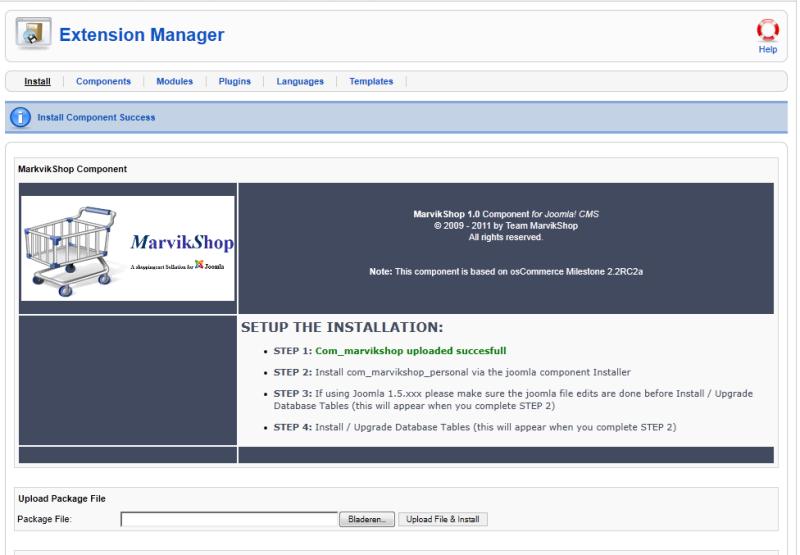 After the installation of com_marvikshop, the program asks for the installation file com_marvikshop_personal. This file contains your personal layout, language files and images. The following screen displays: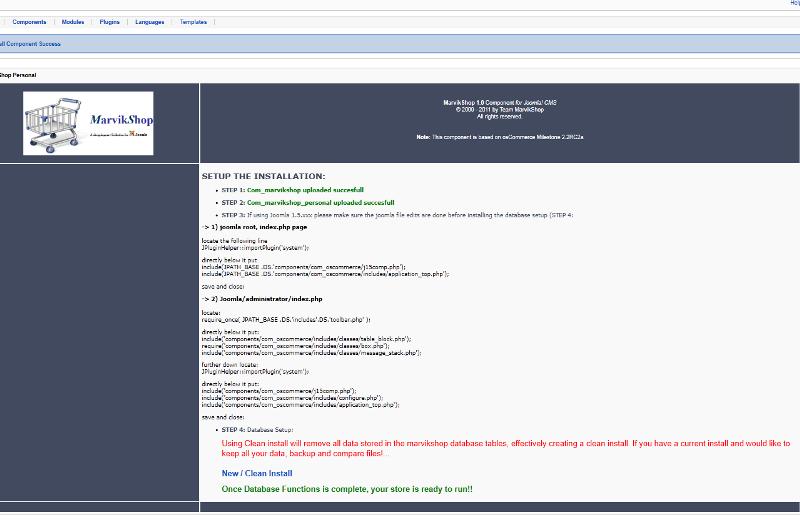 Because it is for now not possible to implemeted oscommerce complete in joomla. We have to edit the index.php from the frontpage and the index.php file in the admin section. The are little edits and not difficult to solve. The best way is to use a ftp program like filezilla and the php edit program notepad ++.
After you edited these files click on CLEAN/NEW install and the database will be installed. In the phpMyadmin you can see how the database was setup. For those who works with oscommerce will see similar tables! It easy to export and import these tables from your old OScommerce website.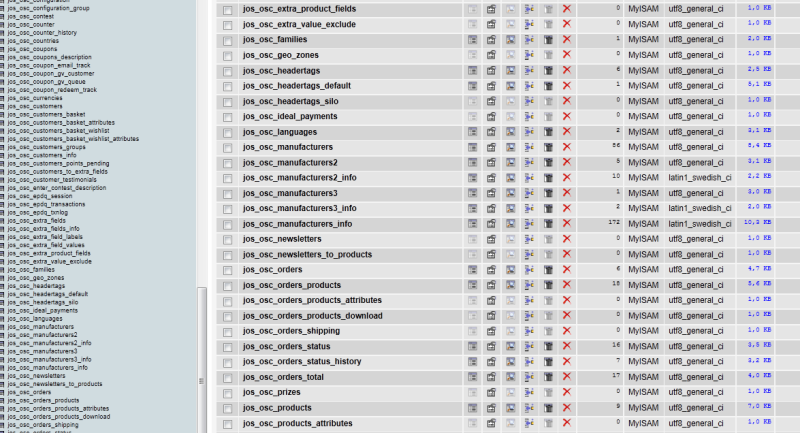 Now in the admin section of joomla you can see MarvikShop as a new component in your component pulldown. The program is now ready for use.

First of all you have to do an uninstallation of the program. Because of edit the jooma index files you have to do the installation procedure in reverse.
Note 1 : Database tales will not be deleted!
First of all you have to uninstall the com_marvikshop_personal file. Of course you have to backup your own edits! After that you can use filezilla and notepad+ to delete the edits from the index files. After that upload the files back on the server. The best way is keep the 2 programs open. Because later you have to set the edits back in the files.
After upload the index.php files you can uninstall the com_marvikshop file. Otherwise you get some errors.
Now the program is complete deleted only the database tables are still there. Now you should download the last version of MarvikShop on our website then login the administrator area of your website and do the normal installation procedure.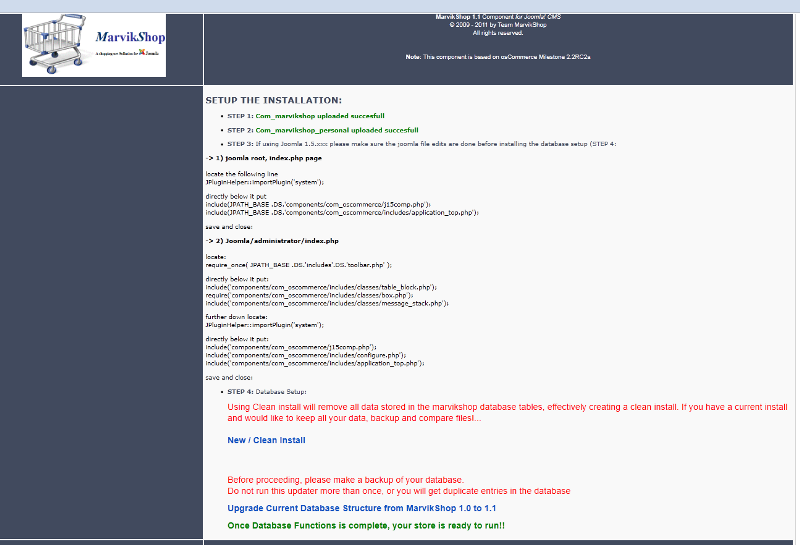 Now after install the com_marvik_personal file you see the following screen. Do the edits on on the joomla index.php files and choose what version you want. A NEW database installation or an UPGRADE.
Note 2 : When you already got MarvikShop in your database and you do NEW database installation, you get some double rules in your database tables. Of course you can clean them in phpmyadmin. But better to do it right.
Upgrade is finished now.

For complete uninstallation do the following steps
1. Log-in to your Joomla! backend with a Super Administrator account
2. Go to "Extensions => Install / Uninstall"
3. Under Components tab select the MarvikShop_Personal and click Uninstall button in the toolbar
4. Then delete the edits in your index.php files from the front and the admin.
5. Under Components tab select the MarvikShop and click Uninstall button in the toolbar
6. Now you only have to delete the database tables begin with jos_osc_..